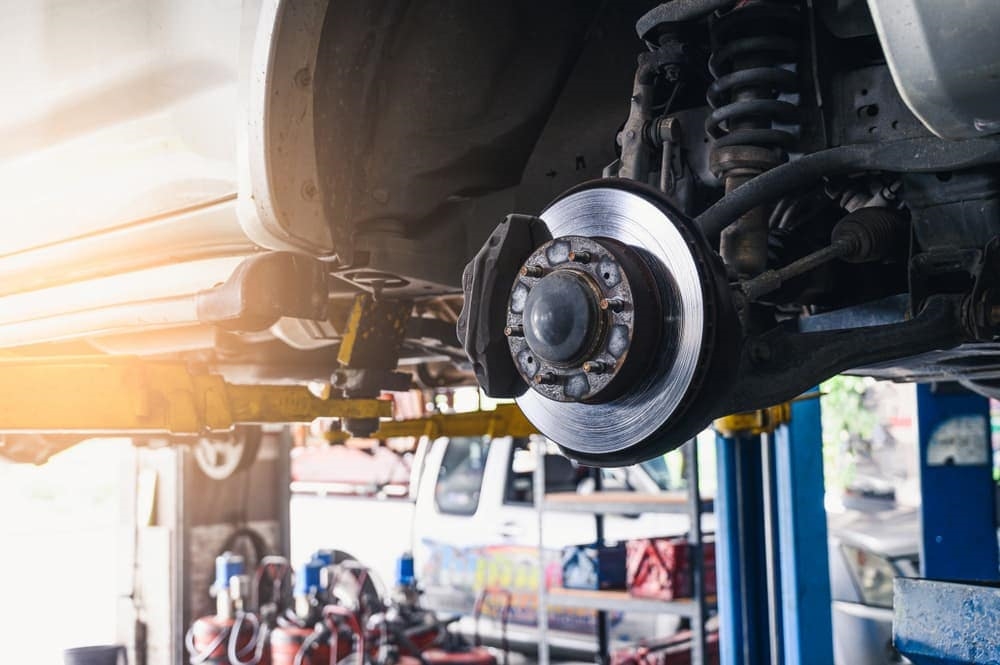 BRAKE CHECK AND REPAIR NEAR BURLINGAME, CA
Here at Putnam Mazda, it is our mission to be the automotive home of drivers in the Burlingame, CA area. We provide a vast selection of new and used vehicles, exceptional car care and customer service with a smile!
Speaking of new Mazda models, you have your pick of our showroom. Our local dealership keeps a great stock of used cars, trucks, and SUVs in inventory. With competitive prices offered on every pre-owned model for sale on our lot, you won't find a reason to visit any other dealership in Burlingame.
BRAKE INSPECTION AND REPLACEMENT SERVICES IN BURLINGAME
As soon as you notice a problem with your brakes, it is best to make a service appointment for a brake inspection. You can find a brake check service in Burlingame for inspection, repairs, and replacement.
While you're there, consider asking your Putnam Mazda technician about a Complete Vehicle Inspection to help you keep up with maintenance and prevent minor problems from becoming major repairs.
BRAKE FLUID EXCHANGE
Your brake system's performance may decline because of contamination of the brake fluid with moisture and other impurities over time. Visit Putnam Mazda Burlingame for a brake fluid exchange to maintain your brake system.
Our technicians will give you a free visual evaluation of the brake system. Then, we will replace the old brake fluid with a fresh one that complies with the manufacturer's instructions for your Mazda.
WHEN TO CHANGE BRAKE FLUID
You need to change your brake fluid according to your vehicle's manufacturer's recommendations and the brake fluid test findings. You must read the manufacturer's instructions to avoid delays that can cause major repair issues.
WHAT DOES BLEEDING BRAKES MEAN?
Bleeding your brakes is necessary when air bubbles enter your brake fluid line, which could be due to:
A leak
Insufficient braking fluid in the master cylinder
A brake work
When air enters your brake fluid line, your brake pedal may feel soft and spongy when you press down on it. If your brake pedal feels that way, it signifies that your brakes need bleeding.
The bleeding brakes process involves a technician using bleeder screws on your brake calipers or wheel cylinders to remove any air bubbles in the system.
Don't jeopardize your safety by ignoring necessary brake inspection and repair. Have your car's brakes checked often and anytime you notice any problems. Schedule a brake inspection or service today!
BRAKE INSPECTION
A brake inspection should include a thorough check of the entire brake system, from the pedal to the rotors and drums. The technician should check your brake lines for leaks and sufficient hydraulic pressure along the way. They should not forget to check the external brake lights.
At Putnam Mazda in Burlingame, we perform a 55-point brake check on your Mazda that covers these components, including their seals and connectors:
Dashboard Warnings like the ABS and BRAKE Lights
Power Brake Booster
Brake Pedal
Brake Fluid Storage
Master Cylinder
Brake Hoses/Lines
ABS Hydraulic Unit
ABS Controller & Other ABS Components
Drum Brakes
On Disc Brakes
WHEN TO GET AN INSPECTION
It is typical to get a brake inspection once to twice a year, or every 10,000–12,000 miles. However, it would be best to check your car owner's manual for the precise frequency of your vehicle's brake check.
Also, take your vehicle for an inspection whenever you notice any issues with your brake system.
BRAKE REPLACEMENT
Based on the outcome of your brake inspection, parts of your brake system may need replacement. These include:
Brake pads
Brake shoes
Rotors
Drums
You must get parts that meet your manufacturer's specifications for optimum performance. Get genuine Mazda parts at Putnam Mazda in Burlingame for a comfortable stop.
SIGNS OF POSSIBLE BRAKE ISSUES
Inspecting your brakes at least once a year is a good practice. However, problems may arise in between the routine servicing. You will need a brake check immediately after the following signs appear:
The brakes grind, scream, or squeal
The brake pedal is mushy or soft.
The steering wheel trembles when braking
The brake pedal pulsates when braking at highway speeds
The vehicle pulls to one side when braking.
The Brake or Anti-Lock Brake System (ABS) warning lights are on
Do not think twice about bringing your car in for a brake check if you notice any of these problems.
THE BEST AUTOMOTIVE BRAKE SERVICES IN THE BAY AREA
Bring your Mazda for brake check, repairs, and replacement by the Mazda experts at Putnam Mazda in Burlingame, CA. You will get the best Genuine Mazda brakes to provide a smooth stop.

We guarantee these are the best brakes on the market because they were created for particular Mazda models. Contact us to schedule Mazda brake services.