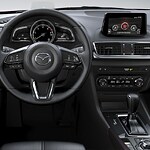 If you grew up well aware of the Mazda automotive brand, you can appreciate the Mazda3 5-Door's nimbleness and versatility. We love driving this popular hatchback at Putnam Mazda. It also looks great in our Burlingame inventory. Let's further explore its outward appeal.
From every angle, the Mazda3 5-Door stuns. Its lines might captivate you. Mazda provided them to help the car displace air, but they also allude to motion. Additionally, the model's paint selection includes six rich, glistening shades. You can choose the easily seen Snowflake White Pearl Mica, the stellar Polymetal Gray Metallic or another high-quality shade. Each one furthers the Mazda3 5-Door's moving narrative.
No matter your color selection, your Mazda3 5-Door will sport a black grille and matching rear spoiler. These parts receive intensely shiny finishes. Mazda applies a matte-black finish to this fierce hatchback's alloy wheels. At 18 inches, these wheels will further raise your Mazda3 5-Door's exceptional profile.