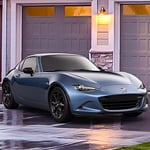 Our Putnam Mazda team is smitten with the vintage-inspired style of the Mazda MX-5 Miata. If you're a fan of this classic sports car, we think you'll feel the same way — this popular convertible roadster delivers the perfect blend of retro and contemporary style.
The first thing you'll notice about the MX-5 Miata is the aggressive body profile. Each contour is strong and striking — this is a car that merits a second glance. The bold contours flow effortlessly from front to back, giving the impression of speed and power even when the car is parked in your driveway.
Walk around to the front of the car, and you'll notice the unique headlight shape. It emerges naturally from the curves of the front end, adding a stunning finishing touch. Add in the brilliant LED high and low beams, and you have a light that's as functional as it is beautiful. To see what we mean, come to our Burlingame showroom for a test drive.